What a DEAL! I remember growing up, my neighbors used to have Schwan's deliver to their door and I was always sooooo jealous!
Well, now it's my turn!
Right now, Schwan's is having a special online. There are a bunch of different things you can order, but I got SPECIAL RECIPE pepperoni pizza, which is $4.99.
I then used code D5 upon check out and got $5 off my order, which then came to .01 cent! There is $1.00 shipping, so the total came to $1.01, shipped!
The reviews on this pizza are unbelievable, so I can't wait to post about it!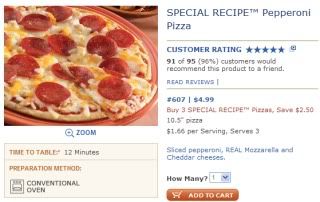 Get in on this deal yourself by clicking HERE!
Oh, I also noticed they accept food stamps (or, ebt cards)! How awesome is that?! I'm so glad companies like this are making it easier for folks in hard times to buy food! Yay, Schwan's!