Sorry for my "MIA" status this week! It's just been one of those weeks! I'm glad it's over and I'm ready to make up for lost time!
Here are a few of my recent favorite things!



I used my BURTS BEES coupon on this and I am SOoooo addicted to this stuff! Since it's medicated, it makes your lips a little cool! They put pure clove oil in it to give your lips that cooling sensation. I absolutely LOVE The smell of cloves, so it's a double bonus for me! And it was free!


Since my daughter has a summer choc-ful-o camps, I bought Avon's Skin So Soft Bug Guard Plus! I know she won't "thoroughly" put on sunscreen or bug spray without my presence, so this is the next best thing! Since it's an aerosol, it spreads on very easily, all over! It's super cheap when you compare apples to apples with name brands that you see in the grocery and drug stores. Want some? Visit my friend Sani's website and order yours today! Click HERE to get to her website!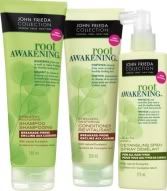 I always see this stuff in the stores, but just kind of pass it by and opt for a cheaper brand that I have a coupon for. Well, I recieved a sample of it in the mail a few days ago and fell in love! It really makes my hair shinier and more manageable! I know that other bloggers are posting about the Walgreens Buy 3 for $15, and get register rewards, but I feel like my deal is better and it costs less!
At Walgreens right now, they have a "travel pack" of John Frieda hair products (shampoo, conditioner and conditioning spray). They come in a box set and are located directly next to the regular size John Frieda shampoo in the hair care isle. The sets are normally about $6, but are on clearance for $2.16! Better yet, if you peek inside the box before you check out, there is a coupon you can pull out that is $3 off 2 John Frieda products! You can get the box sets for just $1 each! Perfect for summertime and traveling! Cha-ching!