This offer expires on June 21st, so if you don't have a Swagbucks account yet...hurry, hurry, hurry and get in on this offer!


I have some exciting news! Swagbucks and Bargain Noble have teamed up to offer new Swagbucks members a very special sign-in code!
Normally, when you sign up for Swagbucks, you automatically earn 3 Swagbucks. If you sign up before June 21st, use code BARGAINNOBLE (case sensative) in the code box and you will earn 5 Swagbucks! This is the best sign on deal for Swagbucks on the web, so take advantage of it asap before it expires! Click HERE to sign up today!
I love my Swagbucks! I have only had my account for about a month or two and I already have 60 Swagbucks! I am saving them up for Christmas, when I will trade them all in for gift cards! For a $5 gift card, it will cost you 45 Swagbucks!
It's seriously very easy to do. You just use Swagbucks.com as an alternative to Google!
Oooh...I almost forgot to mention.....you can also trade in your old video games for swagbucks--they pay for the shipping, too! I am getting ready to send in some old, junky original Nintendo NES games for which I will get 20 additional Swagbucks! Sweet!
When you go to sign up, here is where you would enter the code: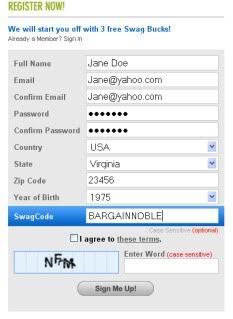 Afterwards, you will get credited your 5 Swagbucks!